PRE-NATAL HENNA, PREGNANCY & BELLY BLESSINGS

We offer premium henna body art services for expectant mothers. Appointments can either be private, or can be organized as part of a larger group event that is celebrated along with close friends who will also have henna applied to them as a symbolic kinship with the mother-to-be.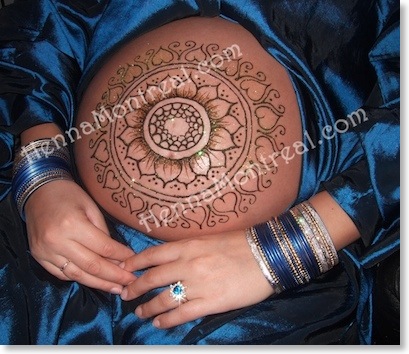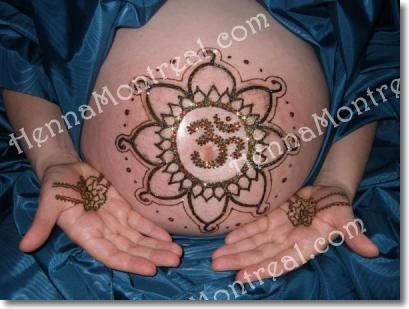 In certain cultures, it is believed that applying henna designs to the belly during the latter part of a pregnancy will protect and bless the mother and child during the difficulties of labour. It is also believed to guard against the evil eye, malicious or evil spirits that may linger before and during delivery.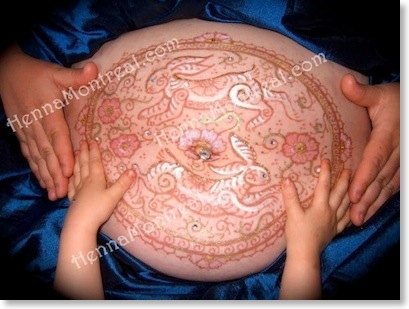 The above image shows the final henna stain of a "Year of the Rabbit"
design, embellished with decorative mica powders.


Henna belly blessings help to celebrate the unique shape of a woman's pregnant belly with a variety of organic, traditional or symbolic designs that complement the figure.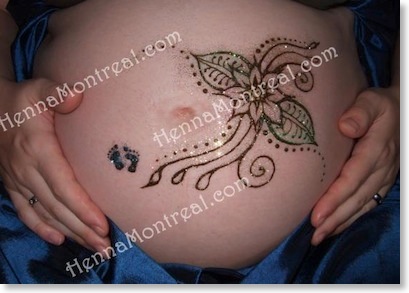 Count on a minimum of an hour for a simple to medium belly design along with aftercare and wrapping. Larger, more complex and intricate patterns can take up to 2-3 hours, depending on the design chosen. Group events are charged by an hourly rate and depend on the number of people and complexity of designs chosen by the expectant mother and party participants -- a minimum of 2 hours is required. Travel fees may apply.



Home | FAQs | Artist | Services | Packages | Rates | Testimonials | Clients | Portfolio | Supplies | Links | Contact