ABOUT THE ARTIST


Capucine is an experienced henna body artist with a background of over 30 years as a trained illustrator and graphic & multimedia designer. She is considered Montreal's foremost "Fusion Style" henna body artist. She is also an accomplished digital photographer, specializing in portraiture, landscapes and macrophotography. Capucine has had training in the Creative & Fine Arts and has received a degree in Illustration & Design from Dawson College, as well as a background in Education with a specialty in the Teaching of Art from McGill University in Montreal.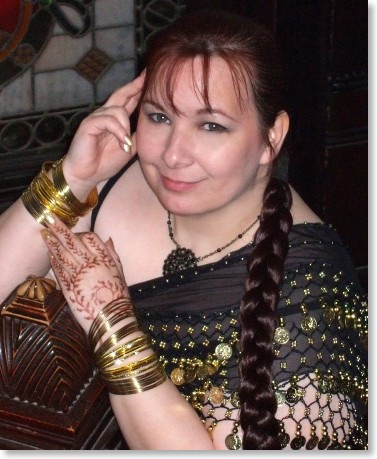 Her interest in the art of henna dates back to over 25 years ago, but it was only with the advent of a reliable Canadian source of fresh imported henna powders that she was able to begin her self-education in earnest. With her background in the fine arts and graphic design, it did not take long for her to gain an excellent proficiency in this ancient and noble artform.

Although she also works with traditional cultural designs, Capucine enjoys spinning her own take on henna imagery using both ancient and contemporary sources to create a style that is often described as "fusion" or "alternative" mendhi. She is always happy to create custom designs for your special needs; whether it is for a bride looking for a specific cultural style or someone who would like to experiment with more futuristic imagery. Capucine will gladly use your own reference material to create a unique piece of henna art just for you.

Capucine's henna artwork has been featured in the Henna Tribe Wall Calendar, as well as the "Henna for Pakistan" henna design e-book fundraising project for Doctors Without Borders. She is also well-known for her aboriginal and native american style henna designs. A status Indian of the Membertou Mi'kmaq First Nation, Capucine has participated in numerous powwows and aboriginal events as well as pagan and tribal festivals where her original and custom henna designs are in great demand. She also creates henna designs on a variety of mediums; including wax candles, wooden frames & keepsake boxes and greeting cards.

Capucine uses only the purest and safest of ingredients for henna body art; fresh organic henna powders imported from India, and high quality essential oils such as Organic Cajeput and Bulgarian Lavender.



Home | FAQs | Artist | Services | Packages | Rates | Testimonials | Clients | Portfolio | Supplies | Contact