HENNA CROWNS

Henna crowns are a temporary form of body art, used as adornment by individuals of all ages who are experiencing hair loss; either through alopecia, chemotherapy or radiation therapy, or simply through age.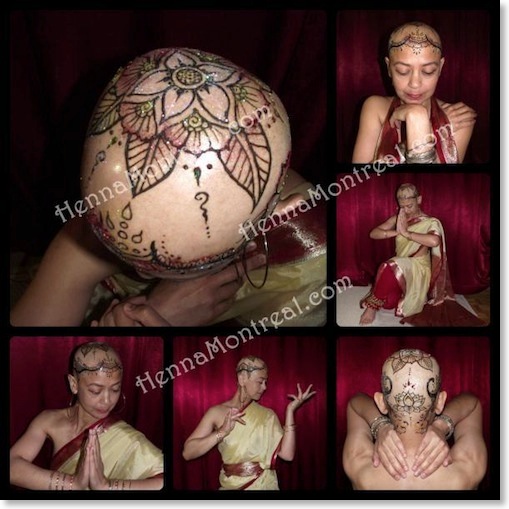 Henna crowns can be a beautiful and empowering alternative to itchy wigs, bothersome scarfs and overly warm hats, especially during the hot and humid summer months. A stunning custom-designed henna crown can boost and restore confidence to those who have lost their hair. Many clients have mentioned how it has restored feelings of dignity in public.

Capucine has been offering henna crown services for over 8 years. She is a founding member of the global Henna Crowns Artists Network of professional henna artists. Having had a family member who has survived cancer and chemo treatment, and a close family friend affected by alopecia -- this is a special form of henna body art that is close to her heart.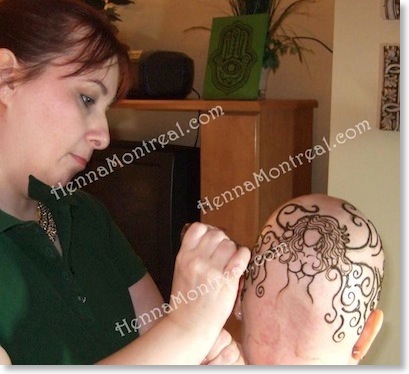 Henna crowns are a painless process, as it does not involve any needles or ink. The all-natural henna paste is applied with a fine applicator bottle and allowed to dry on the skin. It is an ancient and traditional art form that is transformed into a soothing and relaxing experience for the recipient. The resulting henna stain can last up to two weeks. Designs can range from light and airy, to floral-based, to more heavy and intricate designs. Some designs even incorporate imagery and motifs that are important to the person wearing the henna crown.

Capucine uses only all-natural ingredients such as pure certified organic henna powder, lemon juice, sugar and therapeutic-grade lavender essential oil. For those clients who may have a particularly sensitive skin, or who may have concerns regarding citrus allergies or sensitivities to certain aromas, she is able to offer henna crowns done with a special mix of henna paste created with only with henna powder, water, sugar and containing no essential oils.

Rates start at $75 and up for studio-based sessions, and $100 and up for mobile sessions (plus travel fees), depending on the size and complexity of the henna crown design chosen. This also includes up to 3 final digital photos of your henna crown to preserve the memory of your wonderful experience.



Home | FAQs | Artist | Services | Packages | Rates | Testimonials | Clients | Portfolio | Supplies | Links | Contact